Beni Ouarain, from tribes to carpets
The Beni Ouarain carpet, from the tribe to the world of design
A must-have decorative item, the Berber carpet is increasingly popular with interior designers from across the Atlantic, Scandinavia and Eastern Europe. Among these Berber carpets, Beni Ouarain carpet is the subject of a particular craze. If the name does not tell you anything, you will certainly recognize at first glance this chic and minimalist carpet, after its many appearances in the decor magazines, TV reports or even the Instagram accounts of the most fashionable Lifestyle bloggers. Beni Ouarain does not only refer to the carpet, but also to a region of the Middle Atlas in the North East of Morocco, to Berber tribes, to a culture in its own right as well as to ancestral know-how. Tribaliste offers a retrospective on the origins of this mythical Berber carpet and a deciphering of its manufacture.
Beni Ouarain: an ethnic tribe with ancestral traditions
Entrenched in a region of the Middle Atlas, the region of Beni Ouarain has very little contact with the outside world. Through a lifestyle almost autarky, these people have a very strong relationship with their traditions and their ancestral culture. Composed of 17 tribes, the Beni Ouarain (also known as Ait Ouarain) are an Amazigh ethnic group sedentary between Fez and Taza. Originating from Figuig and Zenata, the tribes of Beni Ouarain speak a Berber called Tamazight Zenatiya. Even today, the tribes live on the economic model of barter at Moussems (seasonal events) and weekly souks organized in villages where the patriarchal figure (father or tribal chief) sells agricultural production or crafts and domestic servants of their wives. Nestled in a mountainous region, the environment of Beni Ouarain has a cold climate and rigorous for much of the year. As a result, these tribes have always made giant-sized carpets that serve as floor coverings in their homes and large tents. Today, the weavers of these Berber carpets Beni Ouarain have adapted their production to smaller sizes to meet the demand of the international market. In this region, the weaver occupies a central place in the tribal life. The only source of income for some families, carpet weaving gives women pride and dignity in a patriarchal society.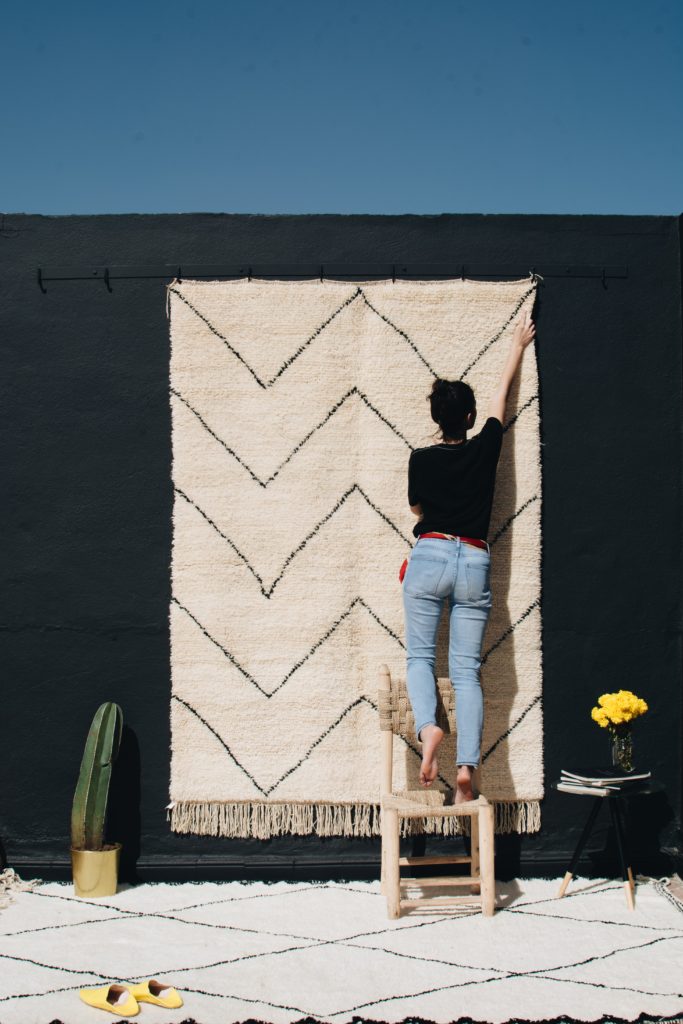 The Beni Ouarain carpet: a clean and unique stamp
At the Beni Ouarain, the weaving families have passed down their know-how from generation to generation since time immemorial in the purest tradition. Living from their livestock, including herds of Marmoucha sheep, the Beni Ouarain tribes shear the wool of their livestock once the climate softens in the spring. Symbol of protection against evil, abundance and announcing better days, this wool known for its superior quality, is worked in a traditional way according to a set of practices and rituals secular. Marmoucha sheep have the distinction of having a black and brown wool on the head. The rest of their fleece is ivory and not beige like the others. With long and irregular wicks of 20 to 30 cm, each shorn sheep provides more or less 3 kg of wool, which is equivalent to one square meter of finished carpet. Once the wool is ready to be worked, the weavers spin. This process is decisive in assessing the quality of the wool used and therefore the value of the finished carpet. The spinning of Beni Ouarain carpet wool consists in mixing short, silky and therefore fragile woolen yarns with long, rougher and stronger threads. A soft down rug may be valued at a higher price.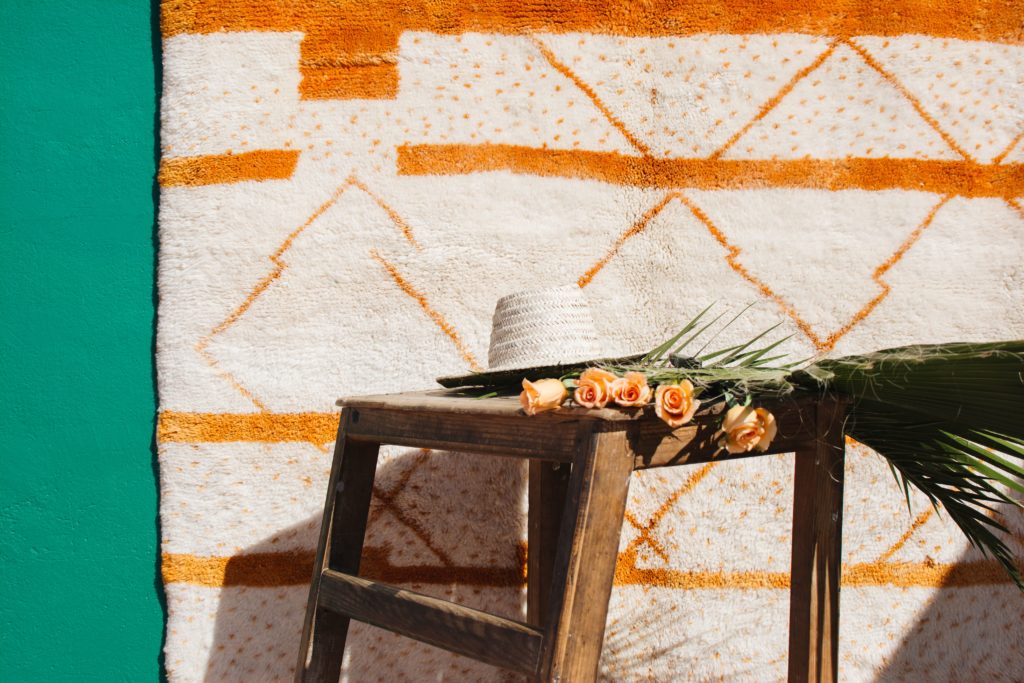 The proportions of silky wool and rough wool thus determine the life of the carpet, but also its value. In addition to the quality of the wool, price differences from one carpet to another can be explained by the size of the carpet, its thickness and the density of knotted stitches. Berber women have an unequaled patience and can spend weeks, months or even a year to complete the making of a carpet at a rate of plus or minus 2 centimeters per day. These extraordinary craftsmen wear their artistic clothes to give free rein to their imagination and lead to unique creations with on each of them motifs and design symbols with a similar but always irregular style. A Beni Ouarain will always contain imperfections and that is what gives him a soul. It carries in him a spirit of non submission to the modern and industrial decorative standards.
The Beni Ouarain Rug, from a trend to a timeless classic
Having inspired Henri Matisse (1869 – 1954) who named them the "White Giants" and first brought them to light, they were also a great source of inspiration for Le Corbusier (1887 – 1965), whose following quote speaks volumes on the different collections of Beni Ouarain carpets woven in the mountains: "Do like Berbers: combine with geometry the most famous fantasy" …
These Moroccan wool carpets decorated with stripes or geometric shapes, have traveled around the world to sublimate salons with Scandinavian, romantic or classic style. As you can see, these unique pieces easily match decorative trends of all kinds. When purists are looking for vintage pieces dating back to the 1950s, trend-setters are looking for original pieces. The Berber carpet is available in different shapes and colors, sometimes as a collaboration between artist and craftsman who bring real timeless works of art to life.
Discover our collection of authentic Beni Ouarain Berber rugs on the online store. With time the classic black and white has been renewed, and now we find Beni Ouarain carpets in other colors such as gray or blue.